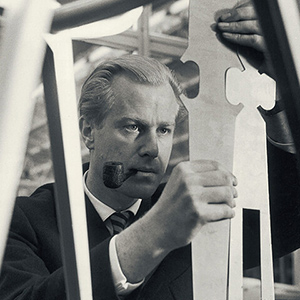 The Dutch industrial designer Friso Kramer (1922 – 2019) studied interior design at the Institute for Applied Arts Education in Amsterdam, among others. In 1945 he joined Bureau J.P. cloister.
From 1948-1963 he worked at De Cirkel (Ahrend's production company), where steel furniture was manufactured. In 1963, together with Wim Crouwel, Benno Wissing, Paul and Dick Schwarz, he founded the design agency Total Design, which played a role in the rise of Dutch Design. From 1971 to 1983 he was director of the Ahrend design office.
In 1953 he designed his famous Revolt chair. This chair has become an icon of post-war modernism. This functional, ergonomic chair is still being produced.
The Result chair and the Facet table followed and conquered the schools. The chairs were very innovative because of the use of folded sheet steel instead of the widely used tubular steel.
Friso Kramer has had several retrospective exhibitions in recent decades, in the Stedelijk Museum and Museum Boijmans van Beuningen. He also received several prizes for his work, including the Piet Zwart Prize.
See here our items by van Friso Kramer: