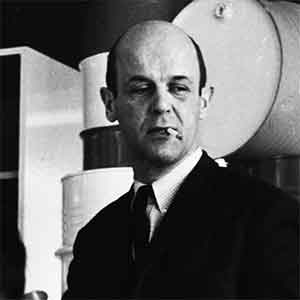 Martin Visser, born in Papendrecht in 1922. He was born with a love for art and became a great art collector. His collection includes work by Cobra, Kiefer and Keith Haring. The Kröller-Müller Museum has 400 of these objects in its collection.
After the MTS, Martin Visser started at the Bijenkorf after 5 years as purchasing manager. From 1955 to 1974 he worked at 't Spectrum (a subsidiary of Weverij de Ploeg). At 't Spectrum, he coordinated the production of furniture and designed the famous BR02 sofa bed, the chairs SZ01, SZ07 and the well-known SZ63 himself.
During his 19 years at 't Spectrum, he linked big names with this company such as: Gerrit Rietveld, Friso Kramer, Hein Stolle, Koh Liang Ie and Benno Premsela.
From 1978 to 1983 he worked as a curator of modern art at Boymans-van Beuningen in Rotterdam. In the 1980s, inspired by art and his wife Joke van der Heijden, he designed a few more pieces of furniture (Unica and small series), he tries out new shapes and materials such as cardboard and perforated steel plate.
In 1998 Visser's design career was awarded the Oeuvre Prize for design from the Fund for Visual Arts.
He passed away in 2009.
Check out our items by Martin Visser: