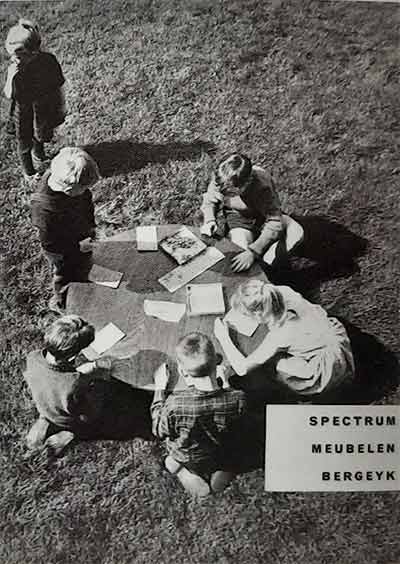 't Spectrum, founded in the middle of the Second World War, originated from fabric manufacturer De Ploeg. The contrast between the anarchist, committed company and the German occupier could not be greater. In the early years there was hardly any labor hierarchy within the company and the aim was to share ownership and profit. In the early years, production was forced to produce small bags, wooden bowls and toys.
In 1954 Martin Visser was appointed as head of design. Around this time, more metal became available on the market and Visser designed his famous sofa bed BR02.7 made of tubular steel.
Visser also attracted external designers such as graphic artist Constant Nieuwenhuys, designers Benno Premsela and Kho Liang Ie and architect Gerrit Rietveld.
Although the appearance of 't Spectrum was rather industrial until the end of the sixties, Visser had a preference for handmade furniture; as a result, 't Spectrum's seating and storage products were always finely crafted and often too expensive for the mass market.
In the early 1970s, when cheaper, foreign products created stiff competition, the directors of 't Spectrum decided to liquidate the company. However, some employees wanted to continue; and so they opened a smaller production outfit called Arspect, selling a small number of 't Spectrum pieces alongside new designers. Unable to weather financial difficulties in the 1980s, Arspect closed down as well; but luckily another former employee of 't Spectrum bought the original design licenses from the 1960s and founded Spectrum, as it is now known, in Eindhoven.
View some of our products from 't Spectrum here: