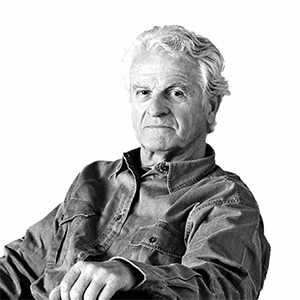 Born in Paris in 1927, French designer Pierre Paulin studied at the École Camondoin Paris in the early 1950s.
During an international furniture show, organized by Kho Liang le, he made a big impression with a contemporary bucket armchair. Soon after the show, he becomes a freelance designer for Artifort. This relationship resulted in several iconic pieces, including his famous Orange Slice, Tulip, Ribbon Chair, Butterfly, Mushroom and Tongue.
Paulin was commissioned by Le Mobilier National to decorate the private apartments of President George Pompidou in the Palais de L'Elysee in 1970, and in 1983, to furnish the office of Francois Mitterand.
His pieces are in the permanent collections of multiple esteemed institutions, including the Museum of Modern Art in New York, Musée des Arts Décoratifs and Center George Pompidou in Paris, the National Gallery of Victoria in Melbourne, and the Museum of Applied Arts in Vienna.
Paulin died in 2009 in Montpelier, France.
See here some of our items by Pierre Paulin