In 1958, Gerard Castelijn embarked on the journey of founding a small furniture company. Initially, the company focused on producing furniture on a modest scale. However, in response to the surging demand, three production halls were erected in Rijpwetering. During the 1970s, Castelijn entered into a collaboration with Gijs Bakker, ushering in an era of innovative design.
The first design of note was the Levichair, introduced in 1973. This remarkable chair featured a metal wire frame, upholstered in denim fabric, and thoughtfully equipped with storage pockets. This fruitful partnership gave rise to several noteworthy chair designs, including the SC series in 1974 and the VF folding chair in 1976, distinguished by their clean lines and groundbreaking design concepts.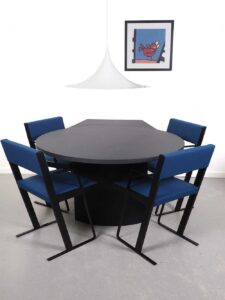 Castelijn remained at the forefront of design innovation, and they enlisted the talents of Dick Spierenburg as their in-house designer. Spierenburg contributed several cutting-edge furniture designs, such as the DC dining chair in 1978 and the DB collection in 1986. In the subsequent decades, the collaboration between Karel Boonzaaijer and Pierre Mazairac yielded a range of exceptional chair designs. This period also witnessed the company's expansion into Nijkerkerveen, marked by the acquisition of an existing furniture factory.
As Gerard Castelijn focused on catering to the professional market's demand for project furniture in Rijpwetering, Dick Spierenburg took charge of the Nijkerkerveen factory, rebranding it as Castelijn Collection. The latter entity specialized in crafting furniture and accessories for the residential market. In a significant turn of events in 1995, Castelijn Collection was acquired by the Gelderland group.
Under Gerard Castelijn's leadership, Castelijn Projectmeubelen enjoyed robust growth during the 1980s. By 1994, the reins of the company were handed over to Gerard's four children. Notably, Coen and Marieke spearheaded the production of luxury office furniture, introducing items like the MC conference table system and the TWK home office cabinet. In 1999, the entire company underwent a relocation to a new facility in Roelofarendsveen.
The year 2003 marked a pivotal moment when Gelderland Meubelindustrie filed for bankruptcy, eventually providing Castelijn Projectmeubelen with an opportunity to repurchase the Castelijn Collection brand. Consequently, in 2004, the brand names were rebranded as Castelijn Projecten and Castelijn Wonen, resulting in the long-awaited reunification of these brands after a 19-year separation.
View some of our products from Castelijn here: