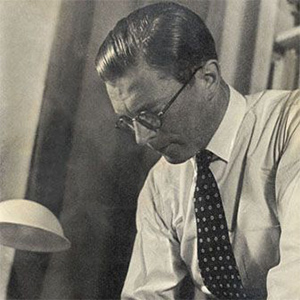 After his teacher training, the Dutch designer Willem Hendrik Gispen enrolled at the Academy of Visual Arts and Technical Sciences in Rotterdam. In 1916, without finishing his studies, he started his own blacksmith shop W.H. Gispen & Co in Rotterdam.
In the 1920s, Gispen became increasingly inspired by De Stijl's design ideas and switched from artisanal to mechanical production. The Giso lamps were a resounding success. He also started designing and producing tubular steel furniture for offices and homes. The breakthrough for this furniture came in 1929 when Gispen was commissioned to provide the Van Nelle factory with office furniture.
In the 1930s he designed, among other things, the Gispen 412 and 404 chairs. Because upscaling was necessary, the factory moved to Culemborg.
In 1949 Gispen retired as director of the factory, but he continued to work in industrial design.
W.H. Gispen was forced to turn his back on his own factory in 1953, due to disagreements with the shareholders.
Not long after that, he and his cousin Rudolf Johannes Meijer started a new company against (Ru Meijer for intimates) with the ingenious name KEMBO (which stands for Come First Maar Bij Ons). During this period he made some of his best designs.
A year after KEMBO was founded in 1954, he was awarded the prestigious design prize of the Triennale design fair in Milan for his chair Triennale 302.
This was also felt across borders: in 1954, a year after KEMBO was founded, the jury of the triennial design fair Triennale in Milan decided to award its Triennial 302 chair with a prestigious design prize. The designs that Gispen made for KEMBO at a later age, i.e. after 1953, are seen as his best pieces.
Today, some Gispen chairs are still produced by the Amsterdam office furniture manufacturer Lensvelt.
See here our items by Willem Hendrik Gispen: